Hiring Vendors: A Comprehensive Breakdown of AV Quotes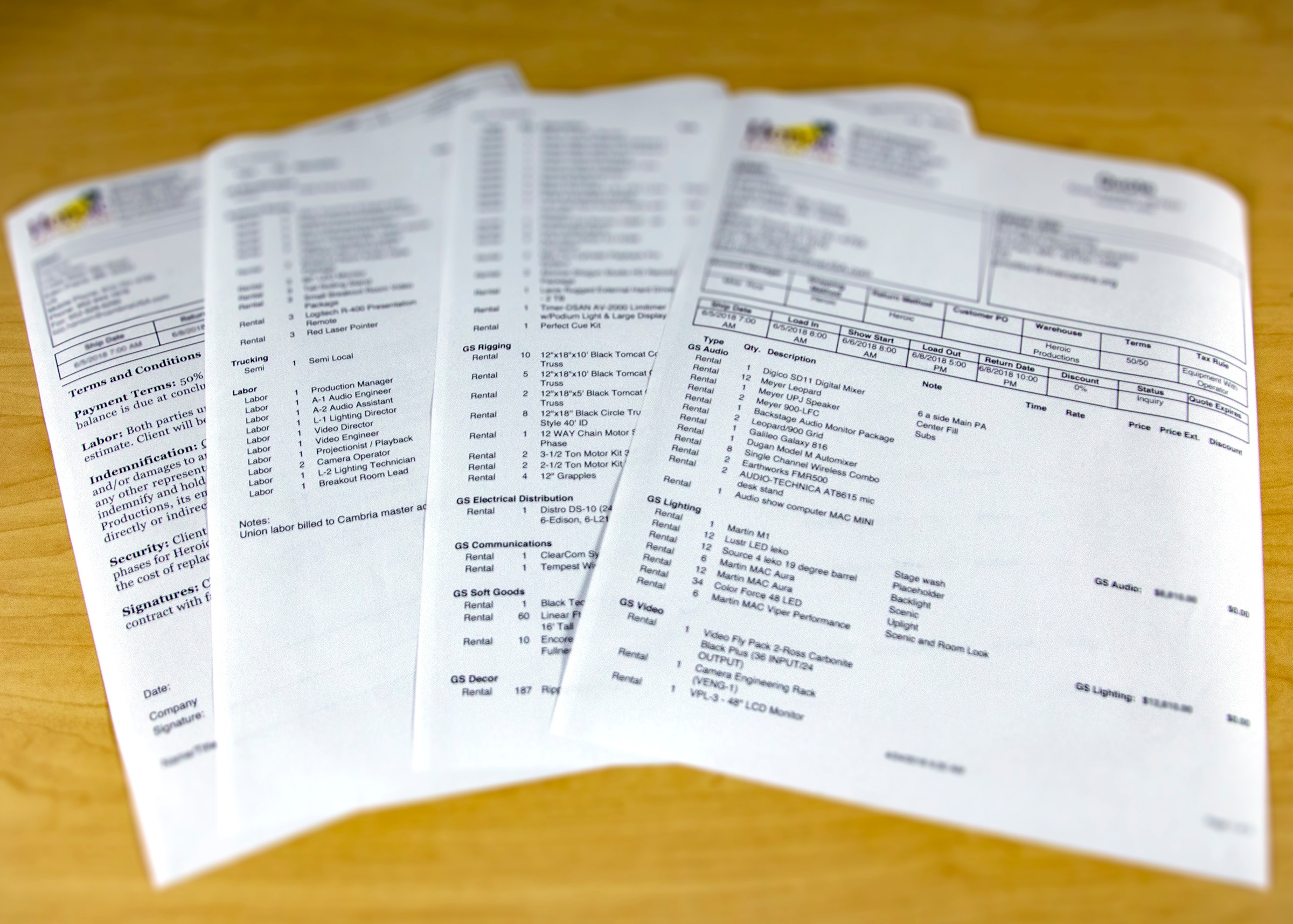 As a new event planner, you had to learn how to read a venue contract in order to book your hotel, expo center, etc. You learned (perhaps the hard way) where the phrase "the devil is in the details" came from. The same applies to AV quotes. If you can't understand the lingo, your event could get off to a less-than-stellar start.
So, what should you expect from your AV quote? How do you avoid surprises? And can you negotiate your quote? Here's a comprehensive breakdown of AV quotes to help answer those questions.
Every Quote is Different
You'll likely request quotes from several audio visual vendors before choosing the right fit for your event. But the way each one presents their quote may vary, which makes it even more important to know how to review and compare them.
Remember, there is no such thing as a "standard quote" because each event is unique. Even if you're doing a multi-city event, where the production itself will not vary, each venue will be a bit different, which could affect AV needs.
Common AV Quote Categories
Although each event varies, there are several commonalities that should be addressed in every AV quote. Here are some of the most common.
Audio.

All sound-related items such as microphones, speakers, amps, and mixer.

Video.

This should include everything relating to visuals — sources, projection equipment, cameras, switchers.

Lighting.

This includes the lights themselves as well as rigging and power distribution.

Labor.

It takes a village, as they say — in this case, a variety of specialized technicians plus stagehands to help move things. This section should detail exactly how many people your AV crew will include and their roles, which depends on the scope of your event.

Miscellaneous.

These are things such as pipe and drape (background draping) or other event-specific items that don't fit into the major categories. Within "miscellaneous" or listed separately, you will also see out-of-pocket expenses your vendor will incur, which you will be expected to reimburse. Think packing and shipping, travel, lodging and food — expenses your crew will have while on the road if they are coming from out of town.
Reading Between the Lines
Is the list of equipment/services complete? While major items will be listed in their category, AV quotes do not list every little thing. You may see smaller items bundled as "cable" or "projection system" or as a "kit" of some kind. AV vendors handle this in different ways, so it can be harder to compare quotes. Ask the purpose of these bundled items, if it isn't obvious.
Focus on the big pieces as they're the most costly. Specific items such as projectors should indicate the type, size, etc.
Is the list of equipment/services appropriate for the size of your venue? Is the specific equipment being quoted compatible with the venue's built-in AV systems? (If you will you be using in-house AV systems or labor, be sure to budget for that, too.)
Will everything listed come together to deliver the audience experience you have in mind? Crisp, easily visible displays? Crisp audio that's loud enough but not overbearing? Lighting that creates the right mood and highlights desired details?
Can You Negotiate?
You will be charged by the hour or day, depending on your event's duration. For longer events, ask if you can get a discount on equipment— a percentage off the total or four days instead of seven for a week, for example. Don't expect any discounts on labor, for obvious reasons.
Never Assume
If you are not clear what something means or what a listed item includes, ASK! No reputable AV company would try to pull the proverbial wool over your eyes, but you don't want misunderstandings, either.
The more you know about how to read AV quotes, the better you'll be able to communicate with your production team, so they can prepare an accurate quote and fulfill its conditions flawlessly. On budget, and just as you envisioned.