Heroic Production's Super Bowl Live Earns Star Award for Best Technical Production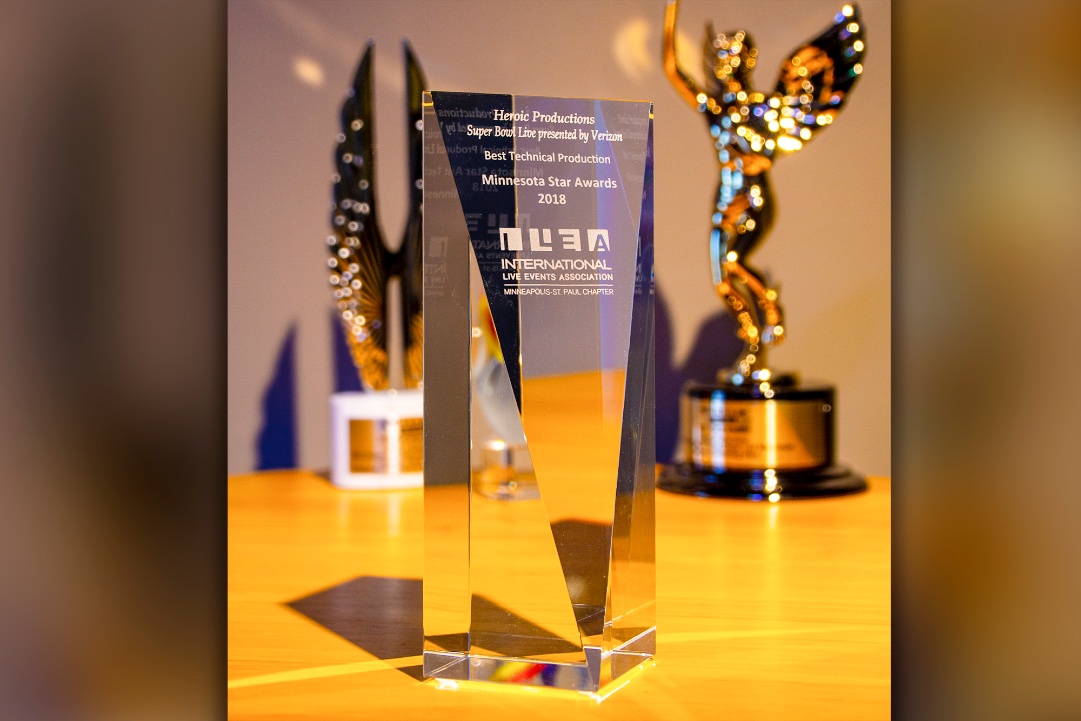 Just over a year after providing technical support for Super Bowl LIVE in Minneapolis, we were honored to accept the Star Award for Best Technical Production from the International Live Events Association — Minneapolis-St. Paul Chapter for the big event.
"Anyone who owns their own business knows you only receive these awards if the entire team contributes. Team Heroic is unbelievably good and made this award possible. I accept it on their behalf" – Jon Young
Don't know what the Minnesota Star Awards are? Here's a little information about the award and a recap of our experience at Super Bowl LIVE.
What are the Minnesota Star Awards?
The Star Awards were launched 15 years ago by the International Live Events Association — Minneapolis-St. Paul Chapter. According to the website, the awards "recognize outstanding professionals in the special event industry for all of the events they create, plan, manage, and execute each year."
Some of the awarded categories include:
Best Corporate Event
Best Event Design/Decor
Best Entertainment Event
Best Filmmaking
Best Event Photography
Best Off-Premise Catered Event
Best Use of Floral
Best Technical Production
Best Wedding
Heroic Productions entered its work for Super Bowl LIVE into the contest. Entries remained anonymous and were sent to Seattle and other U.S. chapters of the association for judging. The three highest-scoring entries were listed as nominees for the awards ceremony on March 15, at Minneapolis Renaissance Hotel, The Depot.
Super Bowl LIVE Experience
Super Bowl LIVE 2018 was a 10-day outdoor festival celebrating everything Minnesota and football. The event spanned six blocks of Nicollet Mall in the heart of downtown Minneapolis and involved dozens of local and national vendors, as well as 10 evenings of local and national music acts on the outdoor Verizon Up stage. The event attracted more than one million visitors, so it needed to be extraordinary. And, extraordinary it was.
As the Lighting contractor, we provided, installed and maintained several hundred moving and LED lighting instruments for the event.
An event as big as Super Bowl LIVE requires multiple vendors which presented unique challenges and required good collaboration, But our Heroic team adapted quickly to changes as they arose and learned valuable lessons from the experience. For instance, when you're planning to spend a good majority of time outside in zero-degree weather, one tip we would pass along is layers – lots and lots of layers.
"To everyone who helped us or attended the event – we say thank you (and we hope you have thawed out)." – Jon Young
To learn more about the International Live Event Association — Minneapolis-St. Paul Chapter or the Minnesota Star Awards, click here.