Outside the Box: Creative Ways to Use LED Signage at Your Next Event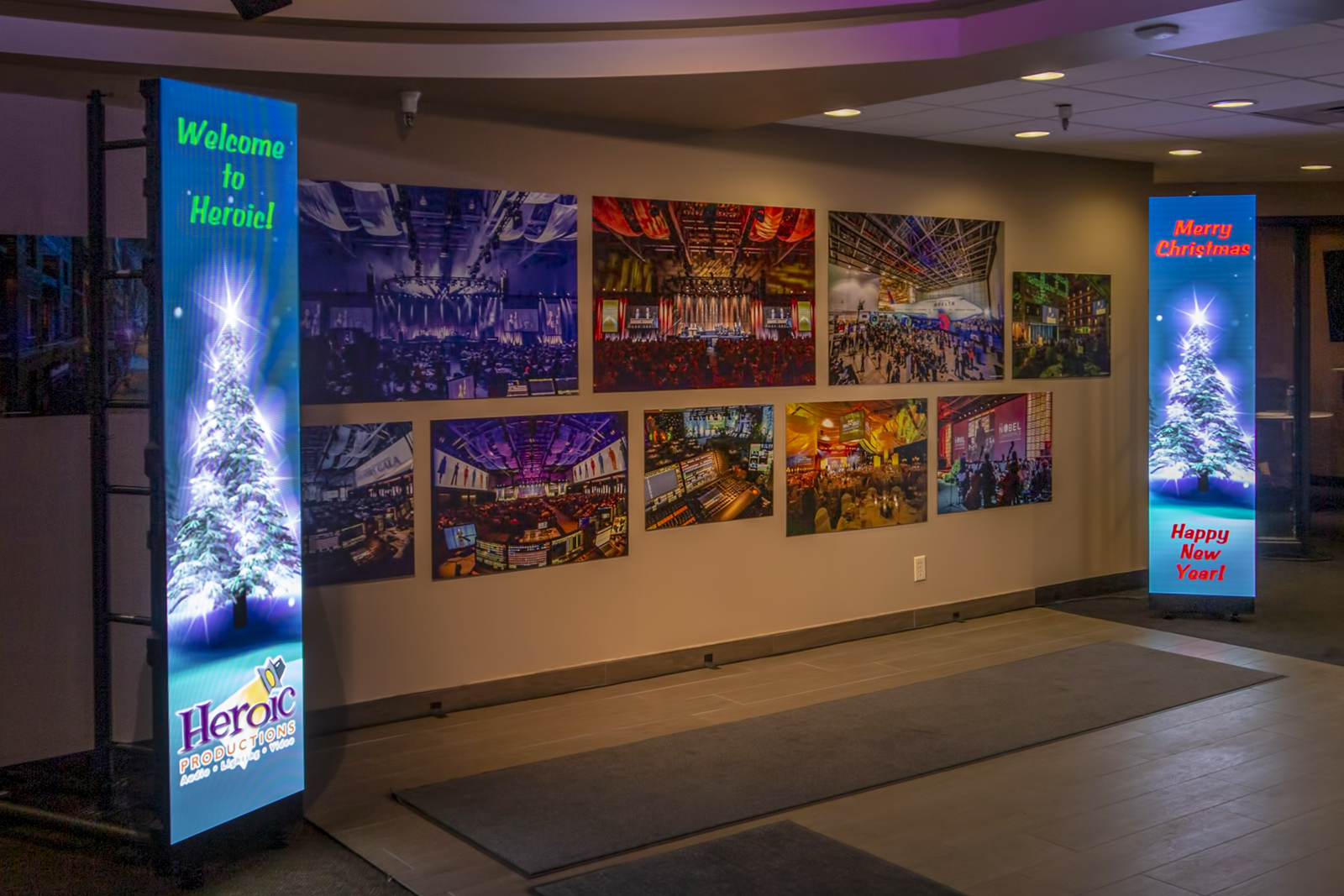 No matter the size or purpose of your gathering, LED signage can vastly enhance your content as well as the features of your venue. For example, you can welcome attendees at the entrance with an LED scenic that creates an atmosphere or LED signage that displays the agenda or map of the venue or promotes the keynote speaker.
LED signage is not a gimmick or the latest fad in event production — it is extremely efficient and amazingly versatile. Done right, it allows you to coordinate your content with all other aspects of your venue, scenic images, etc. to create a well-branded and truly memorable experience. With Heroic  Productions' proprietary ContentCanvasTM, you can do more with LED than you ever imagined. You can bring it to life.
What Is ContentCanvasTM?
The easiest way to understand ContentCanvasTM is to picture 200, 500, 1000 (or more – the possibilities are endless!) borderless LED tiles configured in a limitless variety of arrangements – either flat on one wall or built in any kind of 3D configuration. Likewise, videos can be programmed to a grouping of the tiles, the entire arrangement – or any combination you desire. The sky really is the limit.
The LED tiles are 500mm square (that's about a foot-and-a-half by a foot-and-a-half for those of us who never bought into the metric system), and they are controlled by specialized software that allows individual elements of the ContentCanvasTM to work together or act independently, bringing your most creative ideas to life.
Let Your Imagination Run Wild
The only way to achieve a seamless, consistent experience for attendees is to treat all elements of your event as one. That's why we created a family of LED solutions that can stand alone or enable your content to flow anywhere throughout your venue.
To better understand the opportunities, think of ContentCanvasTM in these primary configurations:
Podium. Forget the traditional lectern with your logo affixed to the front. Our ContentCanvasTM PODIUM is made entirely of LED pixels to form a dynamic lightbox that can display anything you want – text, logos or other images, moving graphics. Thanks to high-resolution, visuals are so sharp you'll swear it's a plasma screen.
Banner. Display content in just one area in traditional banner style, or let it flow wherever you want. ContentCanvasTM BANNERs can be any height or width, all the same, or all different, but always seamlessly aligned. Impress attendees as they enter, with a dynamic scenic – a nighttime cityscape, a tropical fish tank, grasses gently waving in a meadow. Scroll social media posts or key presentation points or a news feed on a wall. Announce your conference schedule. Display locator maps for seminars or silent auction tables.
Wall. Take the immersive experience to the next level, as the ContentCanvasTM WALL literally displays your content all around the room. Not just a wall, but an environment.
All Three. Your event will be captivating, and then some, as your content literally surrounds the audience, flowing from walls to banners behind your presenter, and across the podium. Content can swirl. Or it can pop up here – or there.
ContentCanvasTM allows you to present any type of content you want in eye-catching ways that really connect with your audience. Videos or slideshows, product demonstrations, interactive games or audience participation, quizzes, and surveys . . . you get the idea. Attract more sponsors by incorporating their digital content, too, in ways that help them engage with attendees.
Surprisingly Simple to Build
The technology behind ContentCanvasTM is ingenious if we do say so. We use large LED tiles to display the images, and the tiles connect magnetically, so we can construct most components in minutes. The ContentCanvasTM family is fully adaptable to any type of event and venue. Display quality is not only spectacular, but it's also brilliant in any ambient light conditions. And it's reliable. You can expect a flawless production.
But what makes ContentCanvasTM so impressive isn't really the technology. It's the creativity it both sparks and supports. The possibilities are endless, limited only by your event goals and your imagination. And we're here to help you ideate. We can help you envision never-before-seen approaches to displaying your content, and we can advise you on the technical details of design and setup.
Ready to Give Your Audience a ContentCanvasTM experience? Let us help you create something exceptional.