Tech Team Roles: 11 Important People in Your Planning Process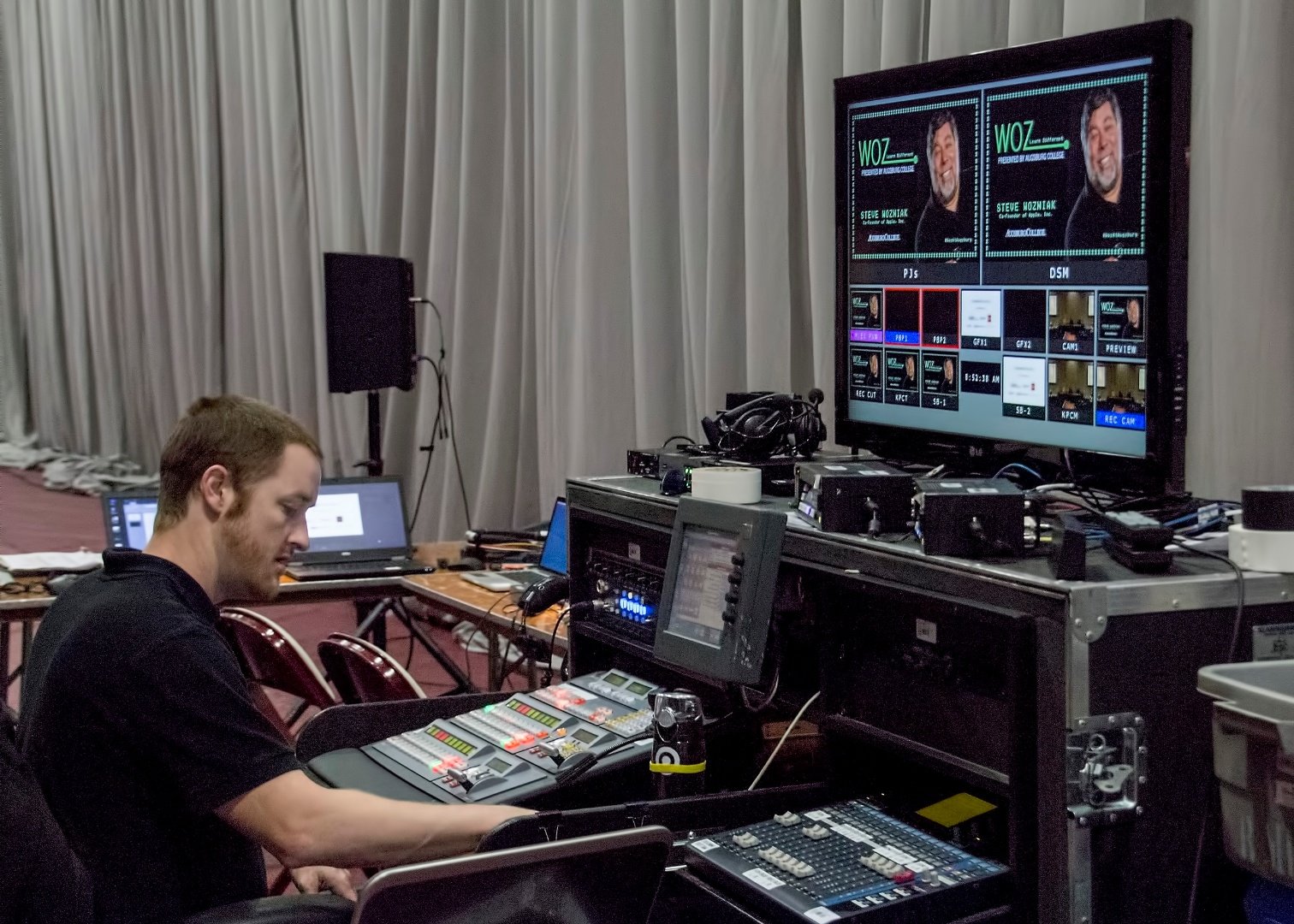 When you work with an audio visual team, it can be supremely helpful to know who does what. The more complex your production, the larger your tech team will be, but many of the key roles remain pretty much the same. Don't worry if you don't know every individual and their job, they will still do the same amazing work they always do. But the more you understand specific behind-the-scene roles before and during your event, the smarter and more creative you can be in planning and executing something truly memorable.
Here are some common job titles in the AV industry and their responsibilities. 
This is the head person, the one who oversees the whole show and serves as liaison to each of the specific tech areas involved in orchestrating your event. The PM is your primary contact.
This person manages the overall flow of everything technical associated with your event. Like a television or movie director, they "conduct" the action by directly communicating with key crew members throughout the event. Sometimes the TD is referred to as the "showcaller," other times you will hear that name applied to the PM because of their broader responsibilities. 
This person is responsible for the visuals being displayed or recorded and the equipment used to accomplish that task. They ensure that what your audience sees and everything that is recorded, is of the highest visual quality. 
Where would you be without clear, crisp, sound or the beautiful blend of multiple audio sources? This person ensures that all your guests can hear the messages you have so carefully crafted.  
If your crew is large enough, there will be a secondary person with hands-on responsibility for sound system set-up and strike. This person is often the person off stage putting mics on executives and guest speakers.
From setting the mood and spotlighting the speaker to choreographing the lights to the music, this is the person who can create the "wow factor" ensuring the overall look and feel of your event are as impressive as the audio and video aspects. Some crews have both a lighting designer and a lighting director (or lighting engineer), who is responsible for implementing the design. There may also be a lighting assistant (L2) who directly oversees set-up and strike of lighting systems.
Various Specific Equipment Operators
Videos, graphics, follow spots (spotlights), moving lights, audio sources, cameras. These specialized tools all require skilled technicians.
This person determines the location and arrangement of all projection equipment. He or she "dials in" each projector so your slides and videos look perfect on each screen.
This person handles the playback of video content during the event, often on both a main and backup playback machine to ensure redundancy. They will test the content beforehand to ensure there are no audio or visual glitches prior to showtime. They're also frequently tasked with monitoring video and audio feeds from the recording equipment to make sure the event is perfectly recorded for posterity.
Presenters, entertainers, and other "cast" members require their own liaison, and that's the stage manager. Their job is to keep your on-stage folks calm, collected and organized backstage and make sure each person enters and exits the stage at the right time!
Here is that extra pair of hands you so often wish you had, especially to help with the heavy lifting. Stagehands are true assets when it comes to efficient set-up, strike, and quick mid-production changes.
The bottom line: every person on your tech team is important, or they wouldn't be there. Just as it is important to understand how different pieces of AV equipment contribute to your event's success, understanding the roles your team members fill makes both planning and execution smoother, and ensures the result you want.