5 Tips for Finding an Awesome Virtual Event Speaker
Many of us spend our days in back-to-back Zoom calls. So, when we attend a virtual event we want a different experience.
Maybe it's thought-provoking insights or new ideas. Or perhaps a fresh way to engage with your customers or connect with your own company's vision and strategy.
Delivering this kind of experience may mean hiring a virtual event speaker. You may ask yourself, how do you find someone like that? And how do you make sure they're adding to the experience in a way that aligns with your event goals? Kris Young, our resident expert offers five tips to get you started.
Tip #1: Begin with the end in mind
If you take away nothing else from this post, take this: always choose a speaker because they align with your event strategy and help you achieve your goals. Nothing is more important.
Say you want to focus on innovation. As it relates to what? Get specific here. Because you can find dozens of speakers who talk about innovation, but they all come at it from their own perspective. Are you looking for innovation as it relates to technology, our new world of work, innovation in healthcare? You get the picture.
It's not enough to run with a fun idea or pick a cool topic. You want a speaker who fills in the gaps. Drives home the point. Opens people's eyes. And the only way to get there is by asking: What specifically are we trying to achieve and how will this speaker help us do that?
Tip #2: Find a keynote speaker who's reinvented themselves for the virtual format
Making a few tweaks to an in-person keynote doesn't lead to success in the world of virtual events. It's an entirely different venue — more like watching TV than going to an event. As such, speakers who thrive in this format are the ones who have wholly reinvented their presentations, and, as a result, raised the bar for what virtual events can and should be going forward.
Speakers should now have a presentation crafted for this virtual medium, and it's not the typical 60-minute keynote. It probably looks more like:
10 minutes of remarks, followed by a moderated conversation (fireside chat) and an audience Q&A session; or a
20-30 minute presentation followed by an interview with an executive from the organization; or a
30-45 minute pre-recorded keynote followed by a live Q&A with the audience using an event platform
Everything is shorter. More succinct. (If you can say it in 18 minutes or less for a TED Talk, you should do the same in a virtual format). Remarks are often punctuated with powerful slides, compelling short videos, or interactivity of some sort, as this helps with overall engagement.
The result? The audience learns more because they feel connected and are enjoying themselves. Plain and simple.
Tip #3: Look for post-event value, too
We're witnessing one of the biggest flashpoints in recent history related to professional speakers. Now, in many cases, a speaker's job isn't done when the event ends. Why?
Well, plenty of topics like wellness and diversity, equity, and inclusion can't become part of a company's culture after a 20-minute presentation. These topics require ongoing conversation.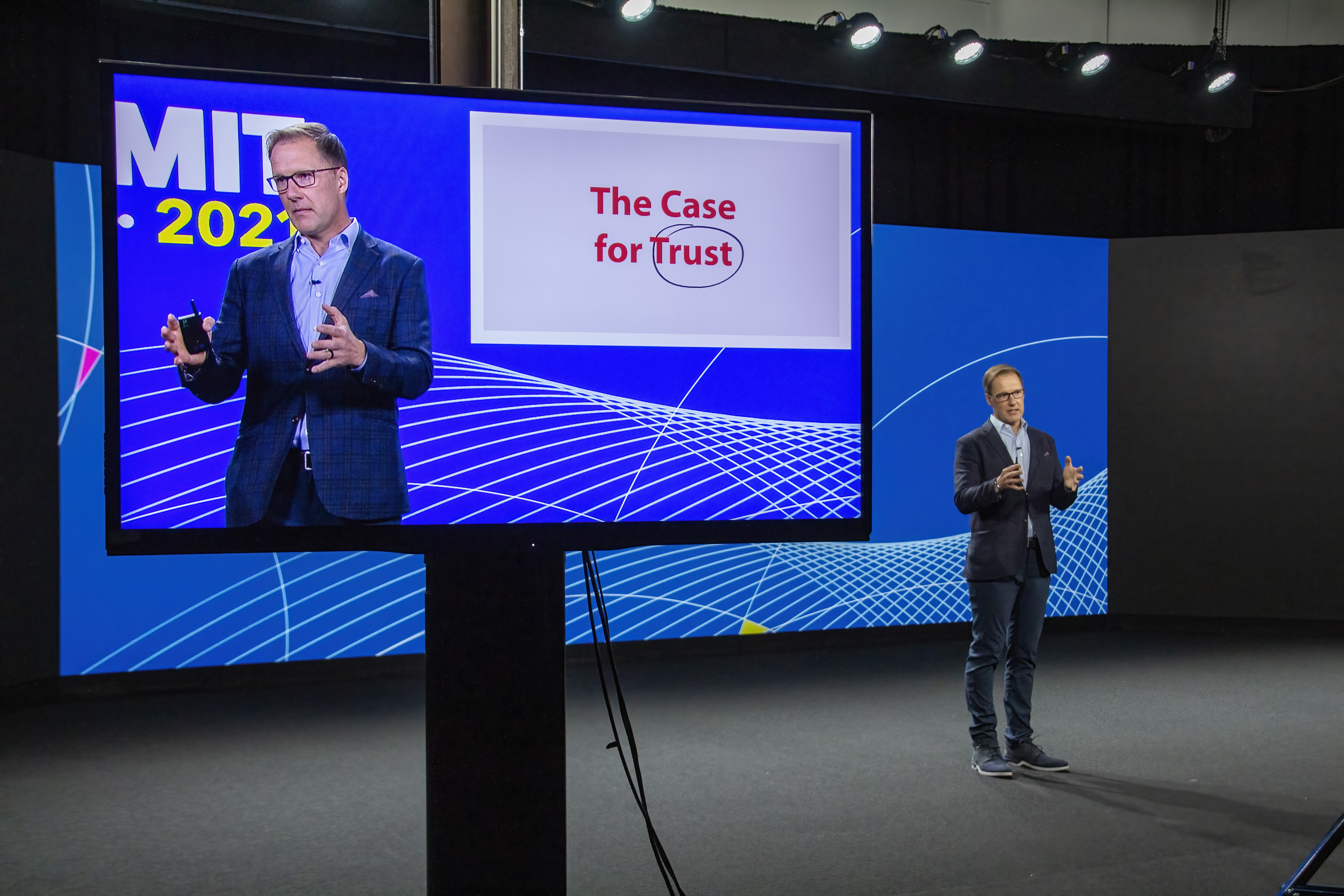 To meet this need, top virtual event speakers now offer extras like books, video training programs, or other digital content to reinforce key concepts after the event.
For example, maybe they provide a series of one-minute video messages for leaders to send monthly to reinforce the event's focus. Or, perhaps it's a digital follow-up program that teams go through on their own — allowing them to explore the topic more deeply at their own speed, and when they have time.
This is incredibly effective when a speaker has specific, deep expertise that the organization wants everyone to absorb and use.
Tip #4: Prepare your virtual event speaker for success
Having speakers nail their role within a virtual event also relies on thoughtful planning and preparation. To get there, you need to prepare them for success.
Rehearsals are just as important for virtual events (in fact, we think they're even more important).
Some presenters may be in a studio, and others may be remote
Some content may be pre-recorded, and other content may be streamed live
Speakers may not be able to see the audience
It's essential they understand their role, how the event flows, the technology being used, and how the speakers and other agenda items work together.
You'll also want to do a technical walkthrough with your keynote speaker. During this step, an event producer will confirm that a speaker's set-up, lighting, connection, and digital content all work well in a virtual format and on your event platform.
Tip #5: Consider working with an experienced keynote speaker agent (one who understands event strategy and will consult with you, as opposed to one who is marketing or selling keynotes)
Of course, we'd love to work with you. Why wouldn't we? But beyond that, there are several reasons why working with an experienced speaker agent/content expert pays off.
We've seen time and time again how clients get excited to go "speaker shopping." They spend hours on the internet or speaker bureau websites and get excited about a potential speaker based on a brief description of what they do.
An experienced keynote speaker consultant knows to start with your event strategy, ask plenty of questions and dig deeper into each keynote's experience and approach. Once it's time to make suggestions specific to your event, she will also:
Share ideas for how to elevate your event and create an experience — whether that's from a content perspective or working on something unexpected or surprising
Offer insights on the placement of the speaker and the integration of their key messaging throughout the agenda
Ensure speakers on the agenda share content with each other, eliminating the possibility of duplicate content, examples of stories
Understand when it makes more sense to have the CEO deliver a message or when an outside speaker would be more effective at landing the point
Suggest speakers who will fit well with your culture
Use their years of experience to find a speaker who aligns with your goals and knows how to create the tone, emotion and context you need
Finding the right talent to create unforgettable moments
In the end, you hire a keynote speaker to help achieve your goals, tell your story and create moments your audience will remember. That's why choosing the right virtual event speaker is such an important decision.
Look for speakers who align with your goals, understand how to engage a virtual audience and deliver value after the event.
Need help finding the right speaker? We have an expert on staff with more than 25+ years of experience sourcing event speakers and entertainment. Contact us today to get started!