7 Inspiring Stage Set Design Ideas for Your Next Conference
Even the most experienced conference event planner can sometimes feel stuck when it comes to set stage design ideas that will WOW your audience. It's important to create something that will impress, but not detract, all while fitting into the venue, supporting your event goals, and staying within your budget.
Conference stage design makes the first impression for all of your attendees. It's important not to settle into the same old, same old ideas that have been seen at conferences before.
Sometimes, all we need is a little inspiration. So, here are some of the Heroic team's favorite set stage design ideas that we think will get those creative juices flowing.
Target Black History Month Event,
Approximately 250 attendees
This event featured guest presenters and panel discussions on African American issues and celebrating local and national achievements. We helped them envision and execute a unique lighting plan, with special highlights of their banners and room highlights throughout the venue. Timing for set-up was very tight, but our crew made it all happen tout suite, all on a bitterly cold Minnesota day in February.
ILEA 15th Annual MN Star Awards,
Approximately 300 attendees
Heroic was proud to be both a sponsor and an honoree at this gala celebration. We intended to be "over the top" in every way, and we more than delivered based on the attendees' reactions and comments afterward. The theme was ancient Rome. We utilized our CONTENTCANVAS™ to display graphics, a Roman coliseum at night during pre-awards, and award winners/photos live during the ceremony. We also created scenic banners to hold the Roman column art and used lighting and color to enhance the look and create atmosphere throughout the venue.
2017 Scholarship Weekend,
Approximately 500 attendees
As part of the national student competition for scholarships, this event presents world-class speakers, celebrities, and other figures who have made a significant impact on our society. Our AV challenge? To transform the gymnasium into an inviting space where the audience could fully experience these high-stature presenters and their messages.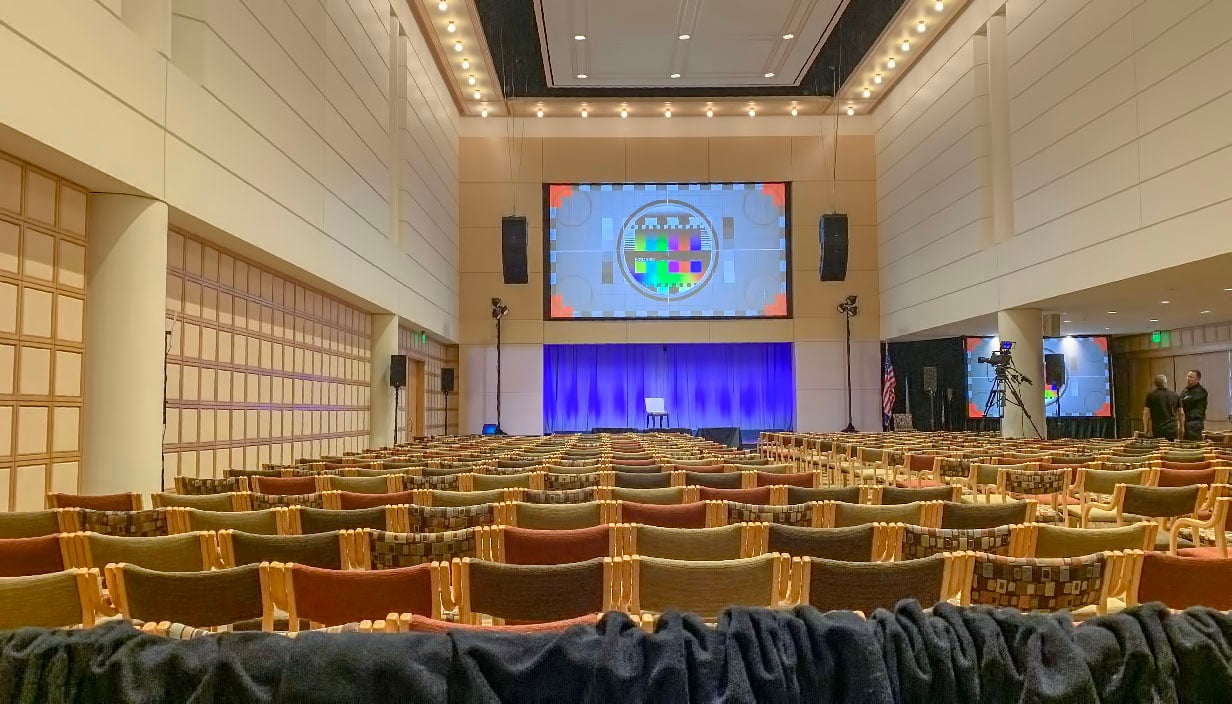 Approximately 250 attendees
This event is a quarterly "all hands" employee meeting that provides company updates and future outlook. There is a large remote audience. So our challenge was to ensure that the online experience was just as good as being in the room. Audio and video had to sound and look the same, live or via stream. The stage had to be adequately lit, with crisp uplighting. Lighting was the trickiest part because what a camera captures and puts out is different from what the human eye can see. Throughout the meeting, we monitored in the room and on a computer screen, to ensure both live and online presentations looked their best and equal.
Thrivent Corporate Event,
Approximately 1800 attendees
This company's annual sales conference was held at the Hynes Center in Boston. Heroic handled the design and execution from start to finish, presenting three "looks" and then working with the client to make the chosen concept a reality. We used projection to take advantage of the sizeable blank side surfaces. The creative use of projected imagery and dynamic lighting allowed us to change the fit and feel of the room for each of the different general sessions as well as the Awards Dinner.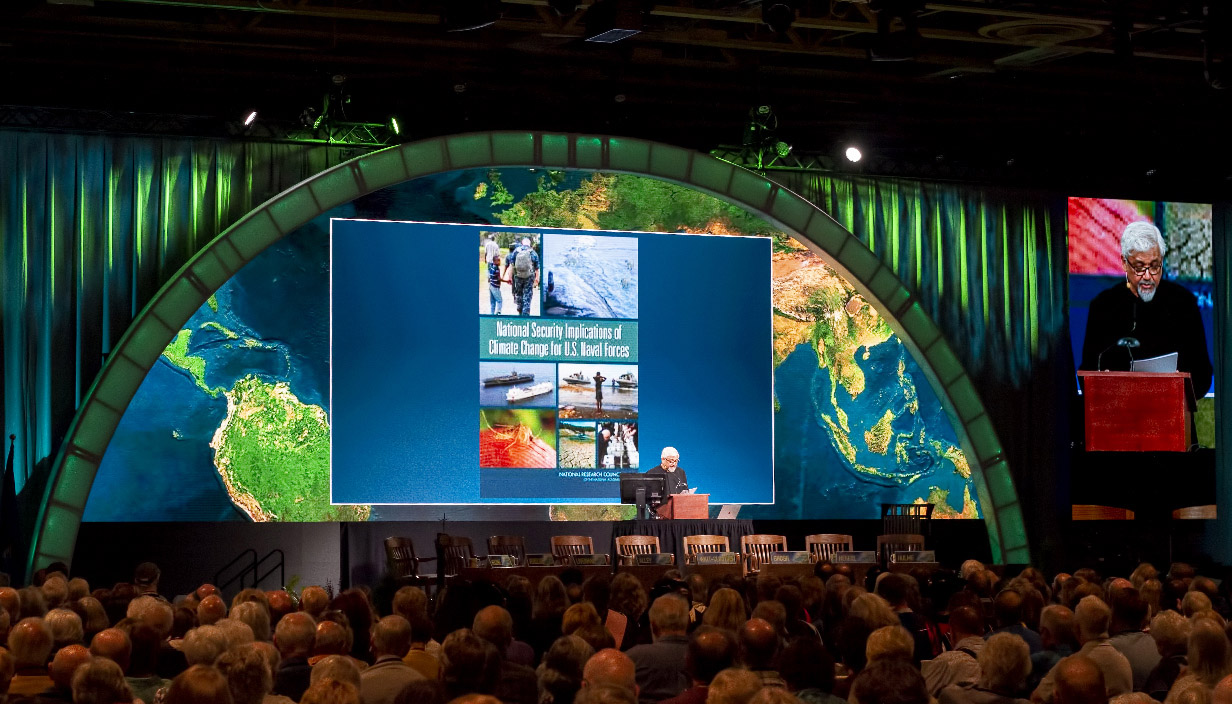 Approximately 3000 attendees
Gustavus Adolphus College hosted its 55th Annual Nobel Conference this fall. Heroic has a long history of AV support for this prestigious Nobel Foundation-endorsed event. Our greatest challenge is transforming a large indoor ice arena into a lecture venue where every attendee can see and hear the presentations by the keynote speakers.
Changing up the look for this year's conference, while meeting that challenge, was one of the biggest goals to achieve. Our solution was to move from all projection to a setup using our ContentCanvas™ LED system. The standard general session rectangular main screen was replaced with a dramatic half-circle LED wall framed by a lit up, half circular truss. Thematically consistent with the globe graphics supporting the event's primary topic: "Climate Changed – Facing Our Future."
Approximately 400 attendees
This event brought together financial advisors and clients in a setting meant to be both educational and inspiring. It was also their first time holding this conference, so they looked to us for advice on the format as well as impactful presentation. We walked them through some options to adapt their content to this audience and this room. Eventually landing on an ultra-wide blended projection screen plan that was, indeed, both engaging and inspiring.
No matter the type or size, our Heroic experts can help you design and execute a uniquely memorable conference. Want to know more? Just give us a call to start exploring ideas.