Our Top Virtual Entertainment of the Month
We've compiled our first Top Virtual Entertainment picks of the year. The world certainly isn't short of talented entertainers. Be on the lookout for our ongoing recommendations of top virtual entertainment. Subscribe to our blog to be the first to receive our monthly recommendations.
For more information on the talent below, please visit our Entertainment Page.
This top-notch group of musicians has already rocked onstage with John Oates, Eddie Money (RIP), and both versions of the band Player. They've trademarked the term "yacht rock," both metaphorically and literally (U.S. Registration Number 3834195). From humble beginnings in a basement, touring in partnership with Live Nation and Sirius XM, they now headline sold-out shows across the country, from Webster Hall in New York to the Wiltern in L.A. While rising from bars to amphitheaters, they've ticked every box on the Rock Star Accomplishments bingo card. Except for one: Writing and singing their own songs. Yacht Rock Revue's first original record is ten songs inspired by the smoooooth sounds of the Seventies and Eighties. They've brazenly titled it Hot Dads In Tight Jeans – forgive them for bragging, but that's what they are – and it returns Yacht Rock Revue to their roots in original music.

2. BRANDON LEAKE
Brandon Leake is the first spoken word artist to be featured AND WIN America's Got Talent. He's an award-winning poet, artistic educator and motivational speaker, and has performed and led word poetry workshops at conferences and theatres. Brandon created Called To Move – CTM, "an artistry initiative to help inspire everyone to achieve their purpose in life through the arts. We live by the mantra, 'We were created on purpose, with purpose. So let us create within that purpose.' "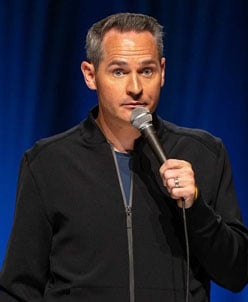 3. PAT McGANN & SEBASTIAN MANISCALCO (TOGETHER!)
Pat McGann is quickly rising as one of the sharpest stand-ups in the comedy world. A relative latecomer to the scene, Pat began stand up at the age of 31 after realizing he was not very good at selling packaging. He hustled his way to become the house emcee at Zanies Chicago, where he distinguished himself as especially adept at working the crowd. A husband and father of 3 young children, Pat's appeal stems from his quick wit & relatable take on family life & marriage. – Pat McGann Comedy, patmcganncomedy.com
Sebastian Maniscalco is finding new ways to connect with fans in 2020. The "STAY HUNGRY" author has hosted several "SEBASTIAN'S SUNDAY SUPPER" virtual dinners and continues to be a favorite for virtual corporate meetings and special events.
4. THE PASSING ZONE
The Passing Zone are one of the most accomplished comedy juggling duos in the nation.  They've done it by focusing on three success principles – innovation, collaboration and execution. Their hilarious, energetic and inspiring keynote (or show), can now be performed through an interactive live stream. In these unique times, everyone is looking for something different to make a "virtual" impact on their audience.
5. KEITH URBAN
Country music superstar, Keith Urban, born Oct. 26, 1967,  has won over legions of fans across the globe due to his natural musical talent, songwriting abilities, stint as a judge on American Idol— and of course his good looks combined with an awesome accent doesn't hurt either. The country music sensation has been on the Nashville music scene since 1992 and broke out as a solo act in 1999 with the release of his self-titled album Keith Urban. That record was certified Platinum in the United States and produced his first No.1 hit with "But for the Grace of God."